The Pinellas Ale Works journey began in 2014 with the transformation of the historic Harold's Auto Body buildings in downtown St. Petersburg. Dennis Decker, head brewer and owner, reflects on the transformation, "Looking back, it was a long road to get to where we are now, but worth every bit of the effort. We're proud to be a part of the St. Pete brewery culture and we're committed to giving our patrons a world-class product."
Pinellas Ale Works or PAW opened its doors in 2016 in the Grand Central District of St. Pete with a large air-conditioned tap room featuring more than 30 taps and an adjacent shaded beer garden popular with craft beer aficionados and their dogs.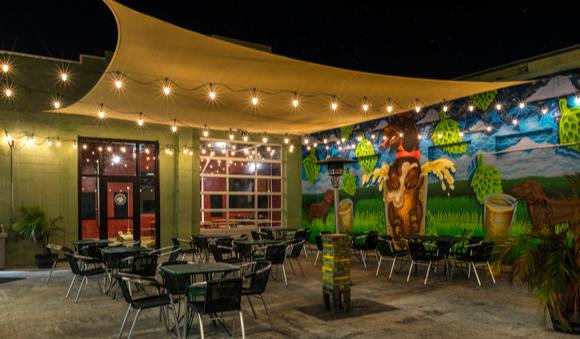 In 2017, Pinellas Ale Works started distributing its beer in kegs and cans to local restaurants, bars, and beer stores in Pinellas, Hillsborough, Manatee, and Sarasota Counties.
Over the years, PAW beers have racked up multiple awards including 8 medals in the Best Florida Beer Competition, and even a Great American Beer Festival Silver medal for Milk Bone Sweet Stout!
Owner/brewer Dennis Decker, "Our 15 barrel brewing system allows us to keep up with growing demand, so be sure to ask for PAW beer at your favorite Pinellas, Hillsborough, Manatee, and Sarasota County bars and restaurants. Cheers!"
Let us pour you some of our doggone good beer Visit PAW