The journey began in 2014 with the beginning of the transformation of the historic former Harold's Auto Body buildings. Dennis Decker, head brewer and owner reflects on the transformation- "Looking back, it was a long road to get to where we are now, but worth every bit of the effort." "We're proud to be a part of the St Pete brewery culture and we're committed to giving our patrons a world class product." Pinellas Ale Works- aka PAW, opened the doors in 2016. Their air-conditioned Tap Room boasts up to 30 taps, and on a nice day, the adjacent shaded Beer Garden is filled with Craft Beer aficionados sipping their favorite beverage and enjoying games like giant Jenga and Cornhole. PAW doesn't have a kitchen yet, but food trucks are often out front or in the area. Snacks are always available as is delivery from local restaurants.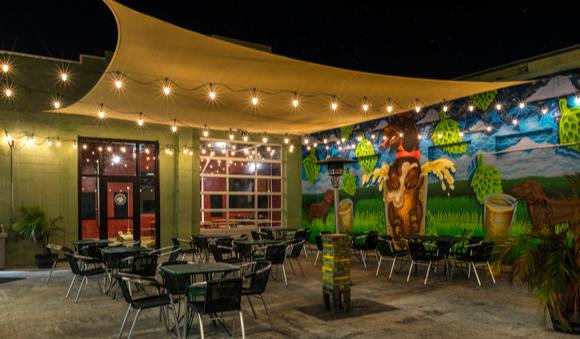 After getting up to speed supplying the Tap Room, PAW started distributing their beer in kegs and cans to local restaurants, bars, and beer stores in 2017.
In a short time, PAW beers have gotten recognition on a state and national level. Standouts are- Milk Bone Stout- 2017 Great American Beer Festival Silver Medal winner, 1888 Russian Imperial Stout- 2017 Best Florida Beer Gold, and 2018 Silver Medal winner, and Schwarzhound Black Lager- 2019 Best Florida Beer Gold Medal! "Our 15 barrel brewing system allows us to keep up with growing demand, so be sure to ask for PAW beer at your favorite Pinellas, Hillsborough, Manatee, or Sarasota County bar or restaurant! Cheers."
Let us show you our commitment to great beer – visit us today!